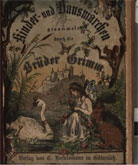 Browse all texts on the Brothers Grimm - Below you'll find all the fairy tales from "Children's and Household Tales" by the Brothers Grimm. Most of the texts are translated by Margaret Hunt. For some of the fairy tales there are alternative translations provided. The markings are as follows:
1.The fairy tales translated by Margaret Hunt will be without additional markings.
2.The fairy tales based on the translations of Edgar Taylor and Marian Edwardes are marked with "*" at the end.
3.The fairy tales from "Grimm's fairy stories" are marked with "**"
4.Grimm's fairy tales from the fourth book - "Household Stories by the Brothers Grimm" are marked with "***"