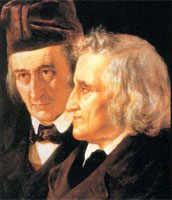 The Brothers Grimm are probably the best-known storytellers in the world. Many years have passed since the time Jacob and Wilhelm Grimm released their "Children's and household tales". The first Volume of Grimms' fairy tales was released in 1812, and the second - in 1814. The first edition and was very modest, both in appearance and capacity - there were only 83 fairy tales, compared to the 200 we know today.
The foreword to the collection was signed by the Brothers Grimm on October 18th, 1812. The booklet was highly appraised in this era of spectacular bloom of romance, when the German national consciousness was formed and nationalist aspirations were awakening.
Brothers Grimm kept updating their collection with newly gathered and recorded fairy tales. In their lifetime the fairy tale collection was translated into almost all European languages, while the German version already had six editions. This was The Grimms first experience of scientific studies and process of folklore and their first major success. For their exceptional scientific achievements modern researchers call them "fathers and founders of German philology."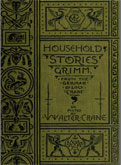 Notes: This fairy tale collection contains 52 of the Grimm's fairy tales. This new Dover edition, first published in 1963, is an unabridged republication of the work first published by Macmillan and Company in 1886.
Author: Jacob and Wilhelm Grimm
Translator: Lucy Crane
Published: 1963 (1886)
Publisher: Dover Publications, New York (Macmillan & Co, London)
Download .TXT