Tanzanian folktales


Tanzania is a country in East Africa. The lands of modern Tanzania were home some of the earliest humans we know of.
The collection of folktales from Tanzania consists of one book with 10 folktales from Zanzibar.
Zanzibar Tales
Notes: Contains 10 folktales told by natives of the East Coast of Africa.
Author: Various
Translator: George W. Bateman
Published: 1901
Publisher: A.C. McClurg & Co., Chicago
What's interesting in Tanzania

Serengeti National Park
is a big national park in Tanzania. Each year over one and a half million white bearded (or brindled) wildebeest and 250,000 zebra migrate looking for new pastures and fresh water. Due to its high density of animals and plants, Serengeti National Park is listed as a site protected by UNESCO.
Ngorongoro Conservation Area is a conservation area in Tanzania. The Ngorongoro crater is a huge formation made when a giant volcano exploded and created a closed environment for some animals. The Olduvai Gorge is another unique feature of Ngorongoro. It is the place where some of the earliest human ancestors lived. Because of its significance, the Ngorongoro Conservation Area is listed as a UNESCO World Heritage Site.

Mount Kilimanjaro
is a mountain in Kilimanjaro National Park, Tanzania. The highest peak of Kilimanjaro towers 5,895 metres (19,341 feet) above sea level, making it the highest mountain in Africa.
Book Spotlight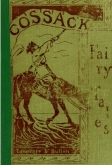 Cossack Fairy Tales and Folk Tales