Canadian folktales


Canada is a country in North America. Humans inhabited the lands of present Canada for over 26000 years.
The collection of Canadian folktales consists of one book with 26 stories.
Canadian fairy tales

Notes: Contains 26 Native American folktales gathered from Canada.
Author: Cyrus Macmillan
Published: 1922
Publisher: S. B. Gundy, Toronto; John Lane The Bodley Head Ltd., London
What's interesting in Canada


Old Quebec is the historic centre of Quebec City in Canada. Old Quebec has two parts - the Upper Town and Lower Town and is listed as a UNESCO World Heritage Site under the name "Historic District of Old Québec".

The Niagara Falls are three waterfalls that lie between Canada and the U.S. Allomst all the water from the Nigara river flow through the largest waterfall of the three - the Horseshoe.


The Canadian Rockies are the Canadian part of the North American Rocky Mountains range. Five national parks are located within the Canadian Rockies, four of which interlock and make up the Canadian Rocky Mountain Parks UNESCO World Heritage site.
Book Spotlight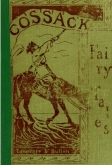 Cossack Fairy Tales and Folk Tales