Polish folktales


Poland is located in Central Europe. With more than a thousand years of tradition, the Polish have developed a unique cultural heritage.
The collection of folktales from Poland consists of one book with seven folktales.
Polish Fairy Tales
Notes: Contains seven Polish folktales.
Author: A. J. Glinski
Translator: Maude Ashurst Biggs
Published: 1920
Publisher: John Lane, The Bodley Head, London; John Lane Company, New York
What's interesting in Poland

Warsaw Old Town
is the oldest district of the capital city of Poland. Picturesque restaurants, shops and cafés are situated on the Old Town Market Place. One of Warsaw's best-known landmarks, the Historic Centre of Warsaw is declared a UNESCO World Heritage Site.

Krakow Old Town
is the historic central district of Krakow, Poland. It was the center of Poland's political life for five centuries. One of the most popular places in Poland, the Old Town was listed in UNESCO's original World Heritage List.
Book Spotlight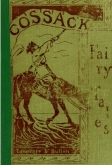 Cossack Fairy Tales and Folk Tales