The Poor Devil
Swedish folktale
Once upon a time there was a peasant, who led his cow to pasture in the spring, and prayed God to have her in His care.
The evil one was sitting in a bush, heard him, and said to himself: "When things turn out well, they thank God for it; but if anything goes wrong, then I am always to blame!"
A few days later the cow strayed into a swamp. And when the peasant came and saw her he said: "Look at that! The devil has had his finger in the pie again!"
"Just what I might have expected," thought the devil in his bush. Then the peasant went off to fetch people to help drag the cow out. But in the meantime the devil slipped from his bush and helped out the cow, for he thought:
"Now he will have something to thank me for, too."
But when the peasant came back and saw the cow on dry land, he said: "Thank God, she's out again!"
NOTE
The little story of "The Poor Devil." (Bondeson, p. 212. From Smaland) which shows him attempting to rival God, is at once humorous and philosophical.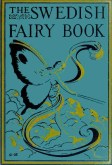 Notes: Contains 28 Swedish folktales.
Author: Various
Editor: Clara Stroebe
Translator: Frederick H. Martens
Published: 1921
Publisher: Frederick A. Stokes Company