There lived a Puddock in a well,
And a merry Mousie in a mill.

Puddock he would a-wooing rid
Sword and pistol by his side.

Puddock came to the Mousie's inn,
"Mistress Mousie, are you within?"

MOUSIE.

"Yes, kind Sir, I am within,
Softly do I sit and spin."

PUDDOCK.

"Madam, I am come to woo,
Marriage I must have of you."

MOUSIE.

"Marriage I will grant you none
Till Uncle Ratton he comes home."

PUDDOCK.

"See, Uncle Ratton's now come in
Then go and bask the bride within."

Who is it that sits next the wall
But Lady Mousie both slim and small?

Who is it that sits next the bride
But Lord Puddock with yellow side?

But soon came Duckie and with her Sir Drake;
Duckie takes Puddock and makes him squeak.

Then came in the old carl cat
With a fiddle on his back:
"Do ye any music lack?"

Puddock he swam down the brook,
Sir Drake he catched him in his fluke.

The cat he pulled Lord Ratton down,
The kittens they did claw his crown.

But Lady Mousie, so slim and small,
Crept into a hole beneath the wall;
"Squeak," quoth she, "I'm out of it all."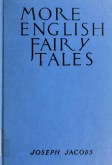 Notes: Contains 44 English folktales.
Author: Various
Editor: Joseph Jacobs
Published: Unknown
Publisher: G. P. Putnam's Sons, New York, London